Grove School of the Durham District School Board serves students in grades K-12.
Grove School Logo
We have changed our logo at Grove!
Last school year, we reached out to Jon Colwell, an artist with an Indigenous background to come up with a new logo that best represents Grove, the students we serve, and the teachers that support them.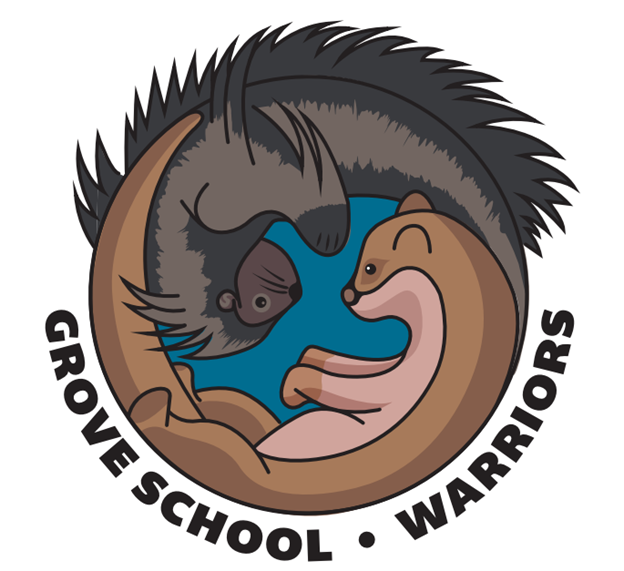 Wiidookdaaking: A place of helping
This "yin and yang" concept with a porcupine and otter in a den is a great representation of what we do at Grove School.
The otter represents the teachers/a safe space in the sense that the otter has been known to share its den with other animals that need shelter temporarily as they are distressed or misplaced.
The porcupine on the other hand, represents the students. The porcupine is a warrior and doesn't have any enemies except for one, the marten. This can be interpreted by each student differently and the hurdles that they are getting over to get the education they deserve is "the marten".
The otter "Grove teachers" is welcoming to the porcupine "students" into their home "Grove School" while they deal with whatever it is they need to do to complete their time there.
Overview
Grove School's Education and Community Partnership Programs (ECPPs) provide critical support to meet the needs of children and youth who cannot attend school due to their primary need for care, treatment and/or rehabilitation services in Durham Region.
Education and Community Partnership Programs are voluntary collaborative partnerships between the district school board and government-approved facilities such as children's mental health agencies, hospitals or youth detention centres. The Durham District School Board provides the educational component ("Education Program") while agencies or facilities provide the care and/or treatment or rehabilitation services.
Children and youth enrolled in these programs may have:
one or more exceptionality and represent the highest needs with the exceptionality
physical or mental health needs requiring them to be hospitalized
be in conflict with the law or at risk of being in conflict with the law
possible or diagnosed mental health or psychiatric needs
severe emotional and behavioral needs and/or
addictions
Although these children and youth have primary needs other than education, the Ministry of Education recognizes that maintaining continuity of education during periods of care, treatment and/or rehabilitation compliments and supports treatment objectives and improved life outcomes for these children and youth.
Educators who work in Education Programs are expected to consider the care, treatment and/or rehabilitation needs of the children and youth and work jointly with ECPP Services staff. Joint planning and multi-disciplinary teams are used to ensure consistent and continuous support for children and youth in Education Programs to assist them in achieving their education and care, treatment and/or rehabilitation outcomes.
Care
ECPPs are designed to recognize the primacy of care, treatment and/or rehabilitation. These partnership programs are based on a collaborative model for sharing responsibilities between the school board and the ECPP Agency or Facility. The school board through Grove School provides the educational programming and the ECPP Agency or Facility provides the care, treatment and/or rehabilitation services. The Education Program becomes interwoven with the treatment services provided by the ECPP Services staff. This collaborative approach, informed by the strengths and needs of the child or youth, enhances both education and care, treatment and/or rehabilitation outcomes.
Correction
Some Grove School Education Programs are partnered with a community-based youth justice agency or facility. These correctional youth justice programs are subject to legislation and are governed by the provisions of the Youth Criminal Justice Act (YCJA) and the Provincial Offences Act (POA). The YCJA and the POA generally prohibit the identification of young persons or release of any other information pertaining to youth in conflict with the law. This is intended to promote rehabilitation by avoiding stigmatization or premature labelling of the young person.
Treatment
ECPPs support children and youth with their education during times of need for care, treatment or rehabilitation. These programs provide intensive services that are clinical in nature and are not considered to be Special Education placements within the school board. The profile of children and youth served, admission processes, referral sources, geographic area to be serviced, pupil teacher ratio, total number of spaces in the Education Program, and the nature and frequency of treatment and/or rehabilitation services to be provided during the hours of instruction in the Education Program are all components of agreements between the school board and an ECPP agency or facility according to each service agency or facility partner fulfilling its mandate by their funding Ministry.
Treatment-oriented classrooms address child and youth mental health, functional behaviour, or youth justice. ECPPs are multifaceted intensive services that are a form of therapeutic intervention or treatment along a continuum of services from outpatient therapy through to residential or inpatient placements. Grove programs address a certain level of severity for child and youth mental health or behavioral issues that are persistent and need to stabilize to maintain proper functioning at school. When a student's mental health needs or behaviours diminish and functioning improves, a return to less intensive or intrusive school placement is the ultimate goal.
Grove School and ECPP Services staff of each agency or facility must plan and facilitate effective transitions so that children and youth receive both continuous education and treatment or rehabilitation services with minimal disruption when they enter or exit ECPPs. Transitions are a normal part of the ECPP and may include the child or youth transitioning back to a community day school, an alternative education program, community pathways, or another ECPP with Grove School or an ECPP in a different jurisdiction other than Durham Region. Transitions may take a few weeks or a few months. Students may also transition into and out of ECPPs on more than one occasion.
Features of a treatment-oriented classroom may include varying combinations of academic instruction, classroom support, therapeutic intervention, and specialized consultation services. Some ECPPs use evidence-based treatment practices that incorporate specialized components that are specific to the diagnosis and/or developmental needs of the children and youth.
Operational Goals
To provide equity of access, opportunity, hope, and outcomes through the provision of Education Programs delivered in partnership with community agencies and facilities in Durham Region
To promote well-being by creating safe, welcoming, inclusive learning spaces conducive to mentally healthy classrooms, schools, and workplaces
To provide mental health resources and support to ensure all students reach their full potential every year
To provide instruction and intervention, assessment, evaluation and reporting on educational achievement, and transition planning for children and youth in Education Programs
Students and Learning
All children and youth in ECPPs at Grove School are provided with tailored and personalized learning environments to better meet their needs and improve educational outcomes. Individualized instruction within the Education Program can lead to the reintegration of students into a variety of pathways including community schools, post secondary education, employment, or community-based continuing education programs.
Agency Partners
Chimo Youth & Family Services
Chimo is a not-for-profit Ontario Children's Mental Health agency licensed and funded under the Child and Family Services Act, administered by the Ministry of Children and Youth Services. Chimo provides intervention services for children, adolescents, and their families who experience severe behavioural, emotional, social and learning problems in their daily life. The Chimo program provides Day Treatment for children and youth between 5-18 years of age and Residential Treatment programs for youth between 12-18 years of age. Referrals by CAS, medical professionals and families.
Collaborative Community Connections
Collaborative Community Connections is a private operation that provides support to individuals from across Ontario between 17 and 25 years of age. Individuals are referred by Children's Aid Societies and/or Adult Service Support Agencies. The facility provides a day program in Oshawa for school credit completion, life skills support, job skills and personal life management.
Durham Family Court Clinic
Durham Family Court Clinic (DFCC) has a mandate to provide assessments and service brokerage for youth in conflict with the law appearing before the Durham Family Courts. The Collaborative Day Treatment Program is one of the many programs and services offered by DFCC. This program provides a therapeutic environment for youth experiencing difficulty coping in the education system. Through individualized therapeutic and academic approaches, the program strives to establish a successful learning experience that will promote the youths' knowledge, skills and values to enhance their life options. DFCC works in partnership with, and accepts referrals from, the Durham District School Board, the Durham Catholic District School Board, the Ministry of Children and Youth Services and Durham Children's Aid Society.
Enterphase Child & Family Services
Enterphase Child and Family Services is a residential treatment agency that works with latency and adolescent children and their families. Enterphase employs a multi-disciplinary, multi-systematic treatment model that includes family, community, residential care, Day Treatment, Individual Psychotherapy in additional to and in conjunction with Psychiatric and psychological services. The emphasis of individualized treatment plans involving varied treatment modes, i.e., play therapy, anger management, impulse control and expressive arts, are encompassed with the Enterphase Clinical Support Services. Residential and day treatment programs for children and youth between 4-18 years of age. Referrals by Durham CAS and Metro CAS.
Fostering Families Relations
Fostering Family Relations accepts referrals primarily from Children's Aid Societies throughout the province to provide children with placements in private homes. Children placed within the homes are between the ages of 6 months and 17 years of age, including both male and female children, and can present with multiple diagnoses and often have specific issues pertaining to developmental and social concerns.
Website Under Construction
Frontenac Youth Services
Frontenac Youth Services is a non-profit Ontario Children's Mental Health agency that provides assistance to emotionally and behaviorally disordered adolescents (12-18 years) and their families within the Durham region. Referrals by CAS, medical professionals, families and academic institutions. The agency provides a wide variety of services to the community, including: Outpatient, Residential, Day Treatment, Aftercare, Individual Therapy, Family Therapy, and Group Therapy. Dual Diagnosis programming and the Expelled Students programs are available when warranted. Generally, adolescents remain in the Day Treatment Program up to two years. In the second year, increasing time is spent integrating the adolescents back to regular school programming.
Kennedy House
Kennedy House provides services to the Youth Justice sector, operating secure custody and detention programs. Kennedy House Youth Centre in Ajax is a 12 bed secure facility offering closed custody residential treatment programs for male youth between 12-18 years of age. Referrals from courts.
Kinark Child & Family Services
Kinark Child and Family Services is a non-profit Ontario Children's Mental Health agency that provides a full range of free and confidential programs and services to children and youth with mental health issues as well as support to their families/caregivers. Kinark offers a range of centre and community-based services, including: Crisis Response, Individual and Family Therapy, and Day Treatment, addition to many other types of therapeutic programs. Direct Response provides a brief intervention for families directly following a referral from Central Intake. Day treatment program for children between 0-12 years of age. Referrals by medical professionals, families and Durham CAS.
Lake Ridge Community Support Services
Lake Ridge Community Support Services professional staff provide support to individuals, community agencies, families, educators and other professionals working with persons having a developmental disability or Autism Spectrum Disorder through the provision of treatment, educational and consultation services. Lake Ridge Community Support Services specializes in the provision of Behaviour Therapy Services (based on the science of Applied Behaviour Analysis).
Lakeridge Health Corporation
Residential/inpatient treatment program and Day treatment program for school aged clients between 12-19 years of age. Referrals from medical professionals. The Intensive Ambulatory Program (I.A.P.) accepts referrals after an initial assessment is completed by a clinician or psychiatrist in one of the other Child, Youth and Family program components (urgent care, outpatient, intake, or in-patient). The average length of stay for this program is eight to ten weeks. Following the completion of the program, the patient is discharged with recommendations. The discharge plan is discussed throughout the course of the program in order to ensure smooth transitions and appropriate linkages.
Murray McKinnon Foundation
The Murray McKinnon House and the Harold McNeill House service the Region of Durham. The Open Detention and Open Custody Homes provide short term placement for Young Persons in Conflict with the Law (12 to 17 years) who are awaiting a court appearance or service their disposition as ordered by the Youth Court. Each facility is capable of housing 9 youths (all male). Resident youths attend a school program (where appropriate) throughout the entire year. Section Classrooms, located in each of the residences are directly affiliated with the Durham District School Board. The Murray McKinnon Foundation has also opened the McKinnon Attendance Centre (MAC) in Oshawa and the Ajax Alternative Learning Centre, providing Community Based Programs, including the Reintegration Outreach Support Program and Non- Residential Attendance Centre.
Ontario Shores Centre for Mental Health Sciences
Ontario Shores Centre offers Day and residential/inpatient treatment programs for children/adolescents between 12-21 years of age. Referrals are centralized. Ontario Shores provides consultation, assessment, treatment, rehabilitation and transition services for individuals suffering from a serious mental illness. The interdisciplinary team includes Psychiatrists, Psychologists, Social Workers, Child and Youth Workers, Occupational Therapy, Recreational Therapy, Nursing, Medical Staff and Educational Personnel. The Adolescent Program offers comprehensive services to children 12-18 years of age including Out Patient/Outreach Services, Day Treatment, Inpatient stabilization and rehabilitation. The Dual Diagnosis Program provides services to individuals who are developmentally delayed with a serious mental illness and who present with significant behavioural challenges.
Youth Connections
Youth Connections offers residential care and day treatment programs for boys between 8–19 years of age. They utilize a variety of therapeutic techniques to encourage healthy development. Youth Connections develops and fosters healthy relationships. They assist young people to strive towards attaining contentment and future success by recognizing and managing their emotions. Youth Connections operates Section classrooms that function in collaboration with each location. All boys begin their academic programming within those units and their re-integration to the mainstream is considered by utilizing a carefully planned pace.